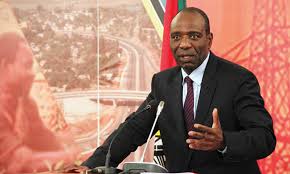 Carlos Agostinho do Rosário
Carlos Agostinho do Rosário was born on 26th of October 1954 at the city of Maxixe. He has been Prime Minister of the Republic of Mozambique since January of 2015. Until then, Rosario was Ambassador of the Republic of Mozambique to Indonesia, with multiple accreditations in Singapore, Malaysia, Thailand and Timor-Leste, functions for which he … Continue reading Carlos Agostinho do Rosário
Carlos Agostinho do Rosário was born on 26th of October 1954 at the city of Maxixe. He has been Prime Minister of the Republic of Mozambique since January of 2015. Until then, Rosario was Ambassador of the Republic of Mozambique to Indonesia, with multiple accreditations in Singapore, Malaysia, Thailand and Timor-Leste, functions for which he was entrusted in 2009.
Rosário has a master's degree in applied Economics in the area of Sustainable Agriculture and Rural Development, from Imperial College in Wye – University of London. And Bachelor of Economics from Eduardo Mondlane University – Maputo, Mozambique.
His journey through public and private institutions began in 1977, as a part-time employee at the Ministry of Public Works and Housing, in the Economic and Financial area, where he remained until 1983.
From 1980 to 1982 he was a professor of mathematics, evening course, at the Industrial Institute of Maputo. In 1983, he worked as an Economist at the Citrine Agricultural Company of Manica, in the centre of the country. Four years later, Rosario was appointed to the posts of Governor of the Province of Zambézia and First Secretary of the Provincial Committee of Zambézia.
In 1994, he became a Member of the Assembly of the Republic, having resigned by legal imposition, right at the beginning of the legislature, after being appointed Minister of Agriculture and Fisheries – he was in charge of this area until 1999.
From the late 90s until 2002, his governmental trajectory was interrupted, having only exercised his functions as Member of the Central Committee of the Frelimo Party, a task he has exercised since 1989. In 2002, he held the position of High Commissioner of the Republic of Mozambique in India and Sri Lanka, a mission that ended in 2008.
Source: Biografia (https://www.biografia.co.mz/)
Read more